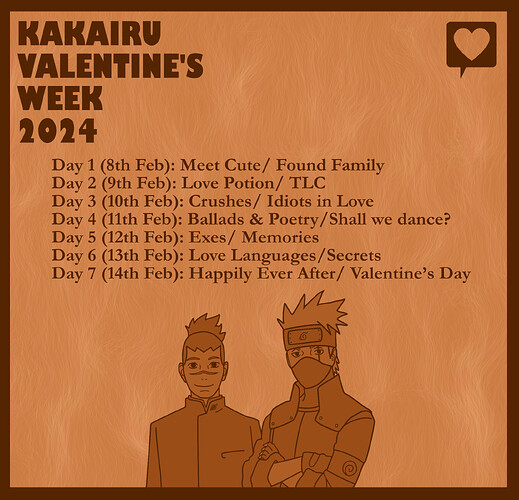 Hey guys! We are excited to announce KakaIru Valentine's Week 2024!
This is an open event run from 8th February to 14th February, dedicated to the love of our favourite ship!
We accept all kinds of content, including fics, art, music, moodboards, and any other creation you can think of, as long as it is KakaIru!
Prompts:
Day 1 (8th Feb): Meet Cute/ Found Family
Day 2 (9th Feb): Love Potion/ Tender Love & Care (TLC)
Day 3 (10th Feb): Crushes/ Idiots in Love
Day 4 (11th Feb): Ballads & Poetry/Shall we dance?
Day 5 (12th Feb): Exes/ Memories
Day 6 (13th Feb): Love Languages/Secrets
Day 7 (14th Feb): Happily Ever After/ Valentine's Day
Rules & Guidelines:
All content must be newly created for this event – old/ recycled work will not be allowed.
This is a KakaIru event, so all works must be endgame KakaIru.
Triggering, sensitive & NSFW content must be tagged appropriately.
You don't have to create something for every day, but we most certainly encourage it; and you're quite welcome to create multiple things for a single prompt!
For each day, you can create for only one prompt, do both prompts, or even combine them!
There are no minimum requirements for creations - all effort counts!
Creations will be accepted in any language!
We would prefer it if you posted on the correct day, but late entries will be accepted until 28th Feb!
Where to post:
All tagged work will be shared by us, and a masterpost will be created at the end of the event!
If you have any questions about Valentine's Week, please let us know!
Happy creating!