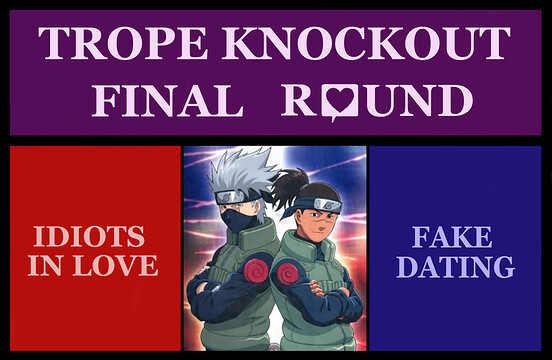 We've come a long way, and the battle has been intense; but now we're finally here, in the FINAL ROUND of the Trope Tournament!
There have been some amazing prompts come and go, from Soulmate AU, to Arranged Married, to Found Family; but now, there are only two left standing, and we are about to find out which of those will be the champion, which will hold the title of the ultimate trope!
The first one facing off in battle is the winner of the Round One Semi-Finals, Idiots in Love, which was suggested by @Dunloth! This trope shares a sweet story of both parties having a huge crush on, or perhaps even loving one another, and they would absolutely love to be with them; but there is absolutely no way their feelings would ever be reciprocated… Right?
We've got some recs here!
The trope challenging Idiots in Love is the winner of the Round Two Semi-Finals, Fake/ Pretend Relationship, as suggested by @catnerys! Here, two people pretend to be a couple for just about any reason you could imagine (undercover, dare, couples' discounts, etc.); and the deeper they get into it, the brighter their true feelings shine.
Take a look at the suggested recs!
Voting will open on Monday 26th October. In the meantime, while you wait, let us know which trope you think is going to win; and come and read the little chocolate mint that I've left below!
EDIT: The poll is now open! Get your votes in by this Sunday (November 1 2020)!
Idiots in Love!
Fake Dating!