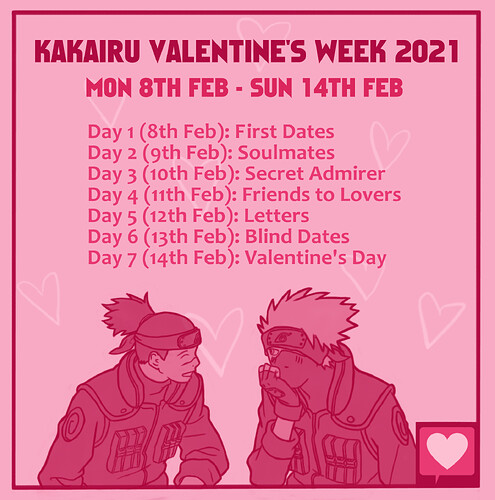 We, at the Kakairu Rocks forum, are excited to announce KakaIru Valentine's Week 2021! This is an open event run from Monday 8th February to Sunday 14th February dedicated to the love of our favourite ship! We accept all kinds of content, including fics, art, music, moodboards, and any other creation you can think of, as long as it is KakaIru!
Prompts:
Day 1 (8th Feb): First dates
Day 2 (9th Feb): Soulmates
Day 3 (10th Feb): Secret Admirer
Day 4 (11th Feb): Friends to Lovers
Day 5 (12th Feb): Letters
Day 6 (13th Feb): Blind Dates
Day 7 (14th Feb): Valentine's Day
Rules:
All content must be created for this event – old/ recycled work will not be allowed.
This is a KakaIru event, so all works must be endgame KakaIru.
Triggering, sensitive & NSFW content must be tagged appropriately. If it isn't, we will not share it. Please also try to censor it where possible (Under a Read More cut on Tumblr, posting in the Lemon Bar on the Kakairu Rocks Forum, etc.).
Guidelines:
You don't have to create something for every prompt, but we most certainly encourage it; and you're quite welcome to create multiple things for a single prompt!
There is no word limit for fics.
We would prefer it if you posted on the correct day, but late entries are okay, too!
Where to post:
Kakairu Rocks Forum: SFW content in the Fanworks section, and NSFW or triggering content in the Lemon Bar (You must be a forum member, and 18+ to have access to the Lemon Bar).
We have an AO3 collection you can post to, which will be open until 28th February; and we would like you to use the tag KakaIru Valentines Week 2021.
Tag us on Tumblr with the prompt your work is for.
On Twitter, tag @kkirvalentine21 and use #KakaIruValentinesWeek2021
All tagged work will be shared by us, and a master post will be created at the end of the event!
If you have any questions about Valentine's Week, please let us know!
We look forward to seeing your creations!