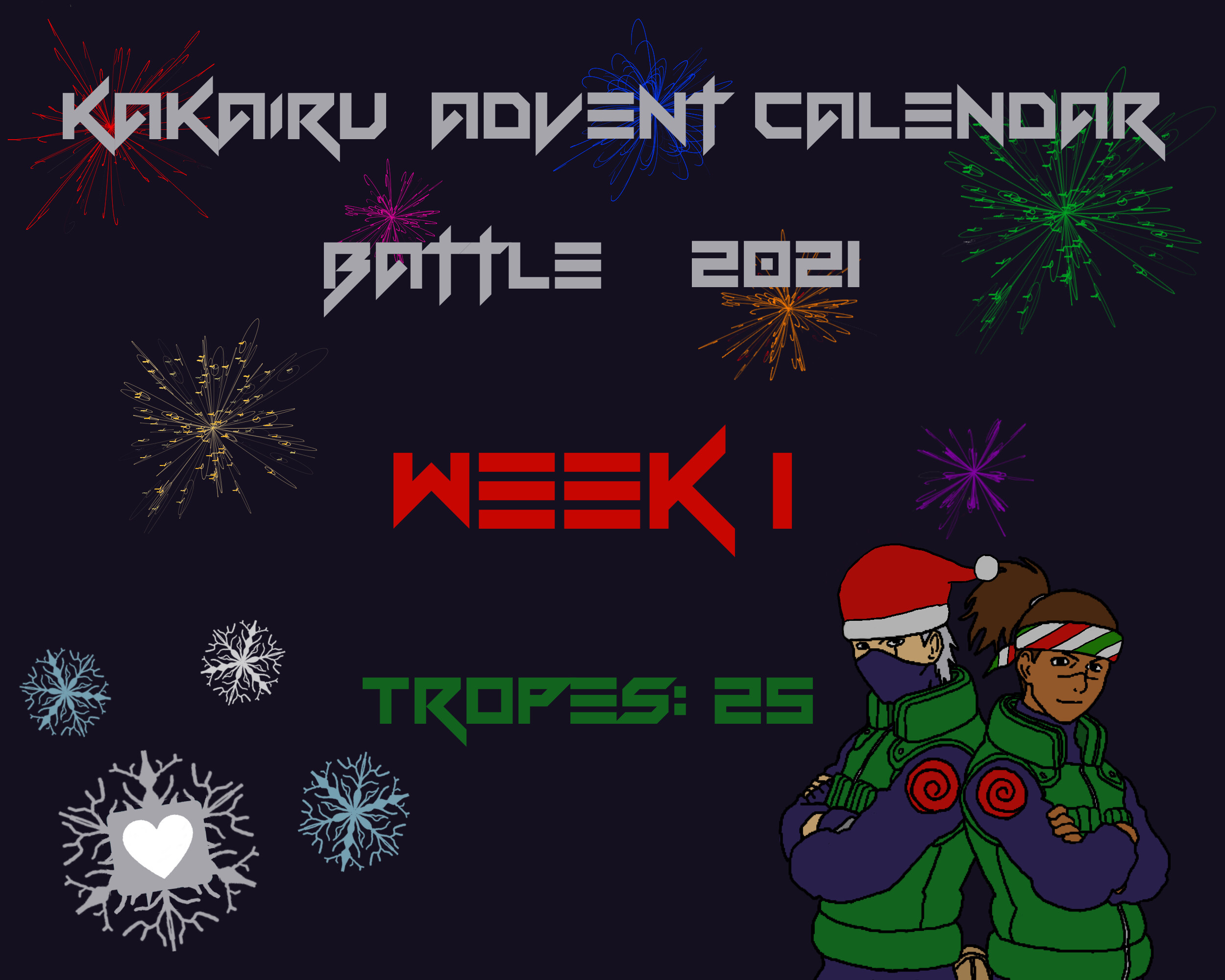 Hey guys! Week One of the KakaIru Advent Calendar Battle 2021 has commenced!

Thank you all for signing up! The only thing you have to do now is come in once a week and vote for your favourite tropes on the list until 31st Jan!
At the end of each week, there will be less and less for you to choose from, as the tropes with the least amount of votes will be getting eliminated in this heated battle!
As we get closer to the finals, we will announce who has each trope, and who is still in the running for the prize - a small fic using the the trope the winner nominated!
Right now, you can vote for as many tropes as you like, but the number will be restricted as the event continues on.
We were going to have a preliminary round if we got more than 24 nominations, but since we have 25, at the end of this week, on Sun 12th Dec, we will be removing the bottom four tropes from the list, instead of the bottom three!
To kick off the event, mod @kakairu-shrine has also prepared a drabble that you can read in the comments below or on ao3!
And now that's all been said, without further ado, let the voting… begin!!!
Unintentional snowball fight
Slipping on ice, and the other catches them
Snowed in somewhere while travelling
Kiss a "stranger" on New Year
Warm up someone we love through a hug
Meeting the family
Getting stranded en route to a holiday function they were both invited to by different people. They don't really know each other yet, but decided to carpool to save money and have company.
First holidays together
Being a mall Santa
Creating new (family) traditions
New Year's resolution
Cozy evening by the fireplace
Caught under a mistletoe
Matching christmas pjs/sweaters for the whole family (even ninken)
One gets cold easily, the other is a heater
One being included on holiday's traditions from the other and their family (they're from a different country and have a different culture)
The ninken being used to deliver gifts
Photoshoot for Christmas/New Years cards for friends
Baking/decorating cookies
Ice skating/ troubles in the ice
Secret santa/ gift exchange
One heavily dislikes the holidays, the other loves them
Christmas proposal
Caught in the snow
Person A is looking at the scenery and comments how beautiful it is while Person B agrees while looking at Person A just as the snow begins to fall.