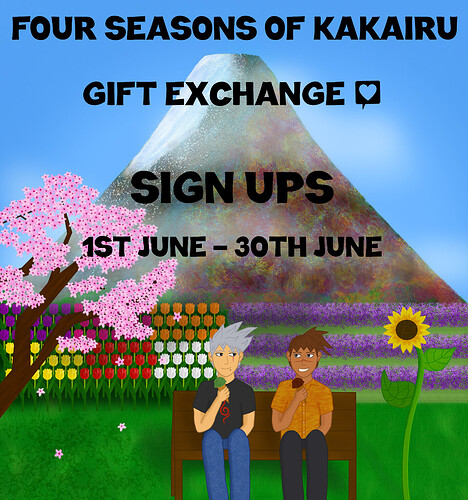 Hey there! We're very excited to announce that sign ups for the Four Seasons of KakaIru Gift Exchange is now OPEN!
As a reminder, this will work like an ordinary exchange, where you sign up, get given a person to create for, and then share your gifts around in the posting period!
The theme is Four Seasons; so you may create for your favourite season, a couple of seasons, or even all of them! The possibilities are endless!
Please read the details before signing up below!
Rules & guidelines:
All content must be created for this event – old/ recycled work will not be allowed.

This is a KakaIru event, so all works must be endgame KakaIru.

You must respect your giftee's preferences. Eg. If they do not want triggering, sensitive, or NSFW content, you cannot create it.

Triggering, sensitive & NSFW content must be tagged appropriately.

The minimum word count for fics is 2k words.

The minimum requirement for art is clean lines & coloured/greyscale.

All work in foreign languages needs to be translated into English so your giftee can read it (mod @kakairu-shrine is an editor, and can assist you), but you are more than welcome to post the original version during the posting period, too.

Do not reveal who your giftee is, nor let them know who you are until the posting period.

Do not post your creation before the posting period.

You need to do the main prompt, but you don't need to include all of the tropes that your giftee likes.

You should aim to have your creation done by the posting period, but we can offer an extension if necessary. Please communicate this with us so we know that you haven't abandoned the event!
Timeframe:
Sign Ups: 1st June - 30th June

Giftee details given: 1st July

Creation Period: 1st July – 31st August

Posting Period: 1st – 7th September
Where to post:
All tagged work will be shared by us, and a masterpost will be created at the end of the event!
If you are interested in signing up, please FILL OUT THIS FORM; and if you have any questions about the Four Seasons of KakaIru Gift Exchange, please let us know!