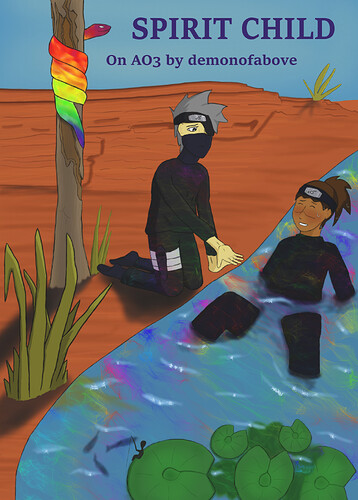 This is my fic for the mini bang!


Spirit Child
(9175 words) by
demonofabove
Chapters: 8/8
Fandom:
Naruto
Rating: Not Rated
Warnings: Creator Chose Not To Use Archive Warnings
Relationships: Hatake Kakashi/Umino Iruka
Characters: Hatake Kakashi, Umino Iruka, Shiranui Genma, Tsunade (Naruto), Haruno Sakura
Additional Tags: Angst, Pining, Spiritual, Urban Legends, Australian Aboriginal Mythology, Mpreg
Summary:
Iruka entered the lake alone, but left again with two.
He wasn't expecting anything that happened;
But somehow, Kakashi knew…
Kakashi knew that a spirit child had tagged along, too.