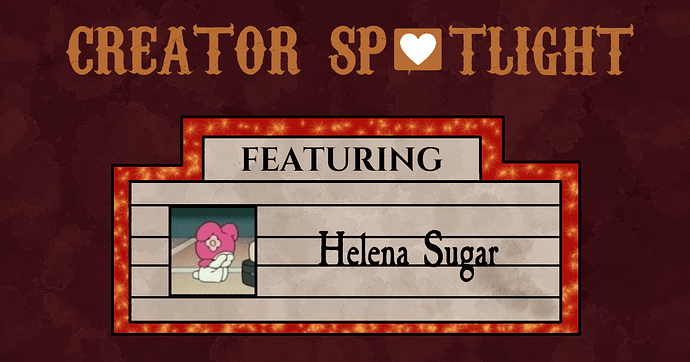 We are excited to introduce our next shining star for the Creator Spotlight… @Helena_Sugar!
This is a member's only activity where we reach out to one of the talented people in our community each month to find out all about them and their kakairu creations, and then show them off to the world!
We hope you enjoy learning about Helena Sugar & her creations as much as we did. Please give her some love

Pronouns: She/ Her
Type of Creator: Artist
Where to find her:
1. How long have you been creating KakaIru fanworks?

I'm actually kinda new to the fandom, I joined in August 2020, and I think I started to create Kakairu art maybe in October 2020, so less than a year.
2. What are you working on right now?

Right now I'm in a Naruto photoalbum project that is taking most of my energy and time, but I'm super excited for the fandom to see it because there are a lot of awesome artists involved!
3. What is your favourite trope to create for?

Fluff, fluff and fluff, everything nice and fluff. I'm not that fan of doing action scenes or sad things, I love happy endings and domesticity so much, so that's what I make <3
And vampire shenanigans… but those are still fluff!
4. Which of your creations is your favourite, and why?

This ATLA Au Iruka, I just had so much fun doing it, and I think it's one of my best works regarding my coloring, I experimented a lot with that drawing, and I always came back to see that piece again and again because I really loved the final result!
5. Do you have any WIPs you're excited about?

I have a lot of WIPs that are art based on fanfics, that I'm afraid to share because I never finish them. But I'm particularly excited about a fanart of the character Vincenzo and his pigeon from the series Vincenzo.
6. Do you have any original characters? If so, tell us about them!

When I was like 12 years old i used to do a loooot of Adventure Time OCs, but I kinda forgot about them while growing up, and kinda stopped creating OCs. But right now there's this special character with no name that I made when I was 16, she's a monster girl who lives in the 50's (A concept similar to Monster High, everyone is a monster, etc), she has a third eye and horns. She has this special ability where she can see the future with her third eye, honestly, she has a special place in my heart, I doubt I will ever develop her story and background more, but I still like her so much.
7. What was your hardest piece to create, and why?

So far, that ATLA AU Iruka, I have this bad habit of making like a 100 layers, and this drawing was not the exception, also I tried a lot of effects, and new tools, so it took me a while to finish it until I liked it.
8. Do you have any favourite scenes from something you've created?

Yes! This piece. I love vampire shenanigans so much!
9. Where does your inspiration come from?

Mostly from fanfics, memes, tumblr posts, etc. Most of the things I draw are fanarts, so I just like to have the characters I like in cute situations.
10. Which of your creations is the most meaningful to you, and why?

Probably this one, and honestly, all my Vampire!Kakashi pieces for a lot of reasons. I made all of them when either I was going through a hard time or just needed to feel better, and every time I come back to see those drawings it makes me so happy because they really made me feel better at the time. Those have a special place in my heart, but also, a plus is that all of the Vampire!Kakashi art I make is super self indulgent, so that's that as a bonus. BUT ALSO Vampire!Kakashi are part of my most reblogged posts, so it makes me happy to see that people like it too. These are just pieces that make me happy for a lot of reasons, and I hope I continue making them <3