So as much as I cringe upon seeing my old work, it's also nostalgic af to remember just how long I've loved this ship. And reassuring to know I'll probably love them for many years to come

So here's some old works I dredged up from my deviantART days


I'm assuming they're supposed to be high school students here, thus the use of 'kun' and the matching uniform shirts. I honestly cannot remember wtf was going on



Something I remember drawing on a Naruto Oekaki Board I used to frequent for Christmas. Iruka's saying, "Kakashi-sensei!" while Kakashi is saying, "Mine!"


Good luck even seeing this one! An ancient traditional sketch of crying Iruka, who probably thinks Kakashi is dead for some angsty reason because 16 year-old-me was an angsty boy.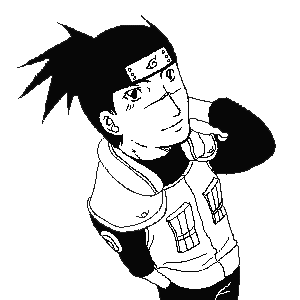 A friend and I used to do paint chats daily in this online, Japanese program that was basically MSPaint with two layers, so you can imagine they saw me draw Kakashi and Iruka constantly

There was an unfinished Kakashi with this pic but it's on my eternal hard drive which might be dead so god knows if I'll ever recover the poor boy

Iruka was supposed to have caught Kakashi watching him from a tree, thus the perspective I drew Iruka in.

I literally had titled this one "Pout no Jutsu" and, honestly, past me was correct.

These two I remember doodling in MS Paint back in like…2008, one right after the other, and it's them trying to be all majorly shoujo bishounen-eqsue. Seeing Kakashi without his mole feels wrong these days, but it just goes to show how old this is.
And that's it! Hope you enjoyed this trip down memory lane with me