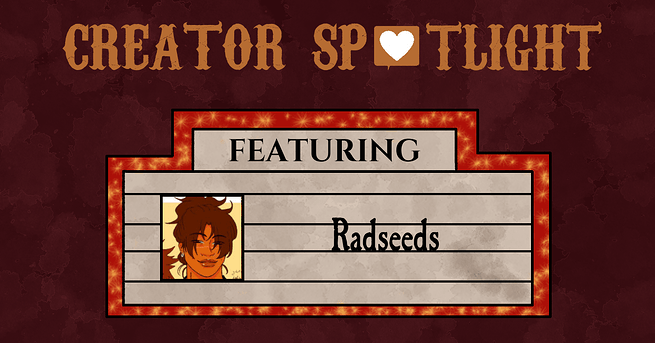 We are excited to introduce our next shining star for the Creator Spotlight… @radseeds!
This is a member's only activity where we reach out to one of the talented people in our community each month to find out all about them and their kakairu creations, and then show them off to the world!
We hope you enjoy learning about Rad & their creations as much as we did. Please give them some love



Pronouns: They/Them
Type of Creator: Artist
Where to find them:
https://l1ldraws.tumblr.com/ (most active, fandom account)
https://worstseeds.tumblr.com/ (spooky art account)
1. How long have you been creating KakaIru fanworks?

I've been lurking in the Naruto fandom for about a decade at this point but only really started contributing fanart in 2020. Like many people I suddenly had a lot of free time and figured it was time to start drawing my silly little pictures.
2. What are you working on right now?

I'm in the middle of completing art for multiple naruto events and have a few wips that are staring me down. I also plan on creating more pieces featuring Iruka in some fun outfits!
3. What is your favourite trope to create for?

I personally describe it as idiots to lovers as I love anything that's generally silly. If you have silly ideas please tell me I love to hear them.
4. Which of your creations is your favourite, and why?

My most recent recollection is this piece. Initially I had no plan. I was just doing some sketching to warm-up and ended up really liking the pose and it went from there. I am especially fond of how the colors came out as I was going for something more vibrant!
5. Do you have any WIPs you're excited about?

I have a few. The one I can talk about is an old sketch page featuring Iruka featuring a flowy outfit I am fond of. Unfortunately I am cursed to be good at making pictures but not describing them.
6. Do you have any original characters? If so, tell us about them!

I'm working on a little elemental/angel person at the moment. But they're fresh so there's not much to say but stay tuned though.
7. What was your hardest piece to create, and why?

I love comics but they are very difficult for me to do so this little three panel featuring Iruka and Yamato is very simple but I'm still glad I powered through.
8. Do you have any favourite scenes from something you've created?

I did some collabs for KakaIru Big Bang and KakaIru Reverse Bang(https://archiveofourown.org/works/40075785 & https://archiveofourown.org/works/40030071) and it was fun working with writers to visualize a scene. Little ole me contributing! Wild! Also I highly suggest checking out the fics they're great
9. Where does your inspiration come from?

I am haunted by images. But in (some) seriousness I am inspired by 90s and 2000s fashion as well as anything that I would describe as a fun outfit. I keep a folder of inspiration fashion on my phone and reference that whenever I work on a piece. I am also a fan of just putting these characters in generally silly scenarios. Give me the jokes! The laughs!
10. Which of your creations is the most meaningful to you, and why?

I really love my RBB and BB pieces so much and it's due to the fact that they were collab pieces. I really do love working with other people and bouncing ideas back and forth. It's what makes working on the piece so much fun!