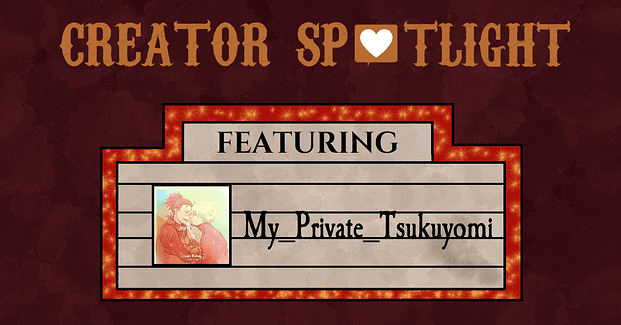 We are excited to introduce our next shining star for the Creator Spotlight… @My_private_tsukuyomi!
This is an activity where we reach out to one of the talented people in our community each month to find out all about them and their kakairu creations, and then show them off to the world!
We hope you enjoy learning about My_Private_Tsukuyomi & her creations as much as we did. Please give her some love



Pronouns: She/Her
Type of Creator: Writer
Where to find her:
Discord: My Private Tsukuyomi
1. How long have you been creating KakaIru fanworks?

Since January 2023
2. What are you working on right now?

I'm working on a Modern Day AU KakaIru Sugar daddy/baby fic with a twist. Iruka is the high-powered CEO type with a huge philanthropic streak but is trying to battle a hostile takeover that includes a marriage/business merger. Kakashi is a disgraced, down on his luck veteran. Kakashi needs a job and Iruka needs someone on his arm in public to stave off the marriage pressure but also someone capable of protecting him at events. But what neither expected is that the lines between the job and real feelings would get blurred so quickly!
3. What is your favourite trope to create for?

Angst with a happy ending seems to be my specialty. Kakashi and Iruka suffer a little, but that just makes the final resolution all that much sweeter.
4. Which of your creations is your favourite, and why?

Right now I'd have to say one of my latest creations, The Road of Life. It uses scrapbooking as an opportunity for Iruka to travel down memory lane to look at a life well-lived and well-loved with Kakashi. I tagged it MCD but it isn't permanent - I could never permanently separate these two!
5. Do you have any WIPs you're excited about?

Surprisingly enough I've only got the one WIP right now, which I described above. I have some half-formed ideas, but I haven't started anything else yet. I think I'm waiting to see what the next theme will be on the kakairu discord server. I love meeting those monthly challenges!
6. Do you have any original characters? If so, tell us about them!

My first fic featured an OC female ANBU badass named Minako. I created her before I turned to writing KakaIru, realizing how perfect Kakashi and Iruka are together - they are canon, just mostly off screen. But yet they connect enough on screen to convince me that they are meant to be.
7. What was your hardest piece to create, and why?

I think I'm having the most trouble with my WIP because it's completely different from anything else I've written. Plus I want it to be a bigger, multi-chapter thing with real world-building. That's always a challenge.
8. Do you have any favorite scenes from something you've created?

I do! One of my favorite scenes is from my first KakaIru fic Of Romance and Holidays. Kakashi takes a candy conversation heart that says 'be mine' and carves a little question mark and the letter K into it before leaving it for Iruka to find.

My other favorite scene is from The Road of Life, when Iruka and Kakashi meet for the first time after the Pain attack. Iruka tries to tell Kakashi he wasn't worth Kakashi's sacrifice, that he's nothing. Kakashi interrupts and tells Iruka that he is, in fact, everything.
9. Where does your inspiration come from?

My inspiration comes from many places. I often dream in KakaIru, so sometimes those dreams become fics. I also draw inspiration from songs. Three of my fics are based on song lyrics. Finally, I draw inspiration from the wonderful folks on the KakaIru discord server Forbidden Scrolls of KakaIru. The prompts and challenges posted there are phenomenal.
10. Which of your creations is the most meaningful to you, and why?

I don't think I could choose just one. All of my creations are a piece of me. It's both delightful and terrifying to share that piece in my fics, and it is humbling that people actually read and enjoy them. Thank you to all of my readers. You, like Iruka to Kakashi, are everything.